Award Winning Children's TV Producers
A creatively driven independent studio focussed on creating and producing innovative, entertaining and meaningful content for kids throughout the world.

Known and respected throughout the industry as a studio that consistently produces quality work with heart. SixteenSouth have won over 50 international awards for their work including two EMMY® nominations, the BAFTA Independent Children's Production Company of the Year, the Prix Jeunesse, three IFTAs and a host of other awards, both for their work and business achievements.
CLIENT
SixteenSouth
SERVICES
Web design

Photography

Copywriting
Project Highlights
We worked closely alongside Colin Williams to craft the site piece by piece to showcase the incredible content SixteenSouth create. We included photography of the incredible studio, products and shows.
UNIQUE ASPECTS
The homepage has been created in a modular format so the content can easily be updated and refreshed to represent the latest work of the studio.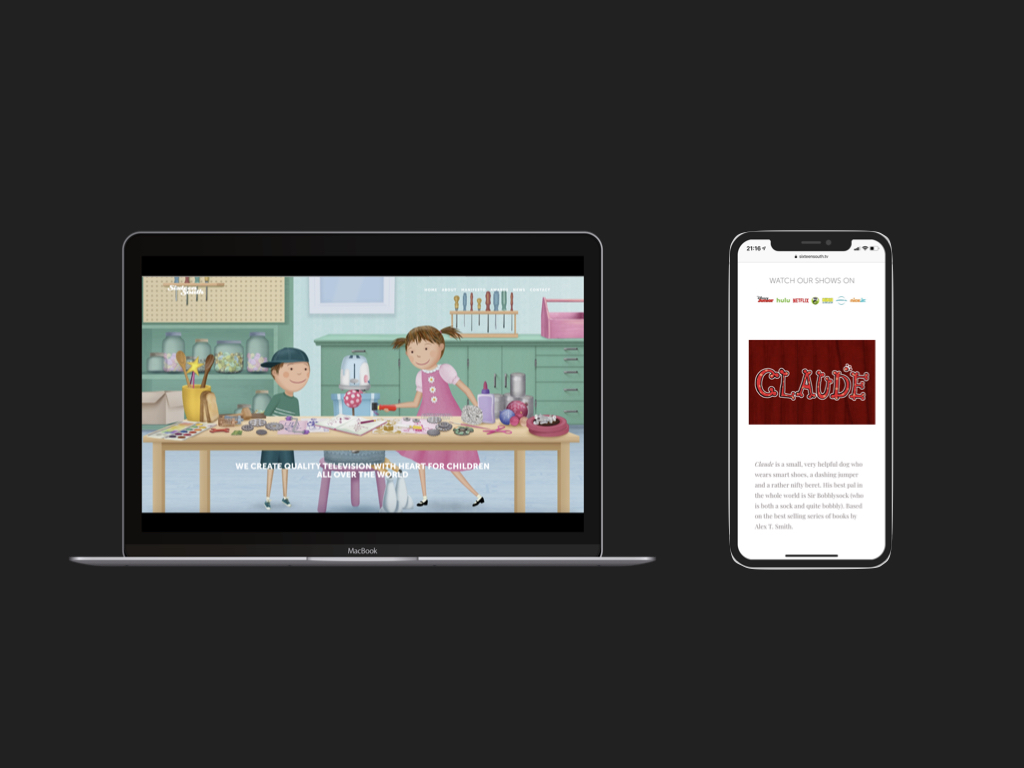 Integrations
We added custom coding and additional integrations to enhance the functionality of the site.
vimeo
We were able to integrate multiple videos on the homepage to highlight the content created by SixteenSouth. The minimal player suited the aesthetic of the site perfectly.
custom code
Using custom code enabled us to have an edge to edge video viewing experience. The video content is the hero of the site and when viewed on a desktop looks incredible.
instagram
A simple integration that allows visitors to connect to SixteenSouth social streams. It's also possible to have the Instagram feed appear in a gallery mode on the site automatically.
Site Analytics
We provide a range of key analytics that can be accessed through a mobile App. Keep track of the traffic overview from wherever you are. Having in-depth details about your site and how your visitors are interacting with it will allow you to optimize your content overtime.
ANALYTICS OVERVIEW
Traffic Sources

Popular Content

Geography

Button Clicks

Device Type
More Like This
We are constantly updating our portfolio you can find more of our recent work here.
word in the city
We created a mobile first website to communicate details about the study options for young adults. This included various integrations including combing visual design with a CRM system to allow event registration to take place seamlessly.
gilbert lennox photography
It was a joy to create an E-commerce site for Gilbert a landscape photographer who captures incredible scenes of Ireland and beyond. There was so many amazing photos to choose from and we used them to form the look and feel of the site.
robinsons wedding hire
Working with a long established family business to develop a site for a new wedding product offering. We combined beautiful wedding themed imagery along with a one page booking format that is straight to the details and easy to navigate.