Bespoke Wedding Car Providers
A family owned business established in 1929.

With years of experience Robinsons Four Wheel Drives have supplied 4x4 Sales & Executive Hire to thousands of happy customers. In 2016 they launched their Wedding Car service & are committed to providing an experience that will add significant value to their clients.
Leaning on the legacy of the family business we created an elegant brand identity and site that attracts young couples wishing to source wedding transportation they can really trust.
CLIENT
Robinsons Wedding Hire
SERVICES
Web design

Photography

Copywriting

E-Commerce
Project Highlights
We worked closely alongside Robinsons Wedding Hire to create a new website to prospective clients to find out more, get quotations and pay deposits for their chosen vehicles.
UNIQUE ASPECTS
We created a one page capture process to keep the UX simple for prospective customers. Integrating Stripe payments makes it simple for clients to make payments online.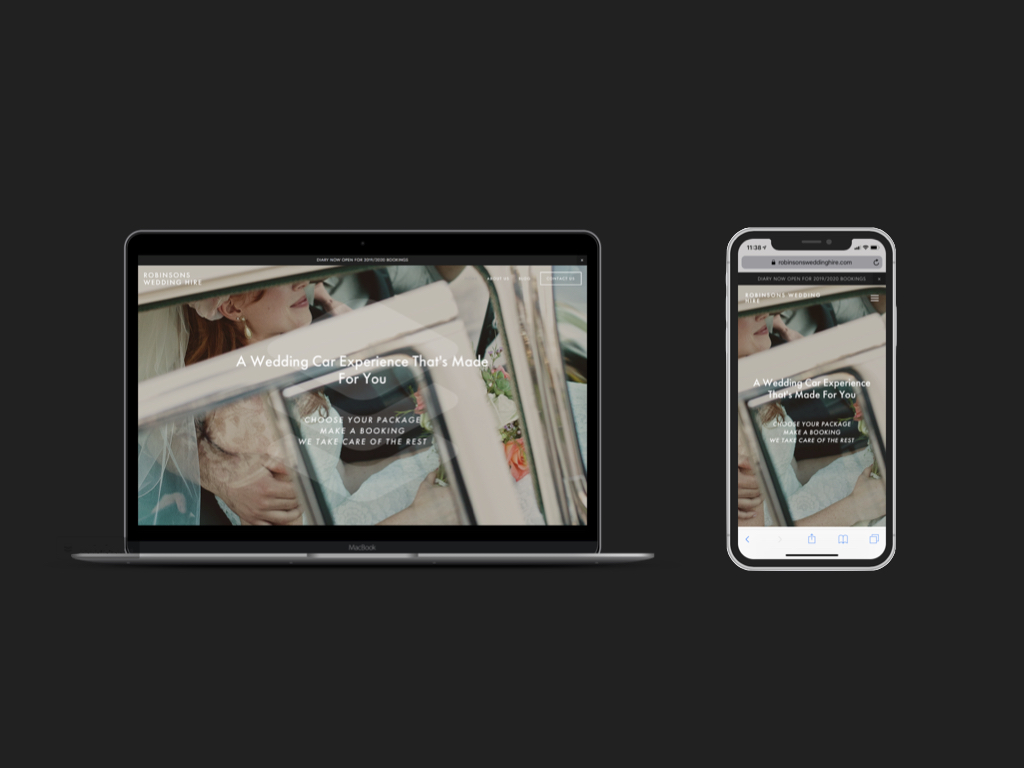 Integrations
We added custom coding and additional integrations to enhance the functionality of the site.
Stripe
Customers are able to simply and securely make payments for Wedding Car Deposits. These payments transfer automatically to the vendors account and sends an invoice directly to the buyer.
MAIL CHIMP
Using Mail Chimp Integrations we are able to capture prospective clients email addresses as we promote the Robinsons Wedding Hire Blog.
instagram
A simple integration that allows visitors to connect to Robinsons Wedding Hire social streams. It's also possible to have the Instagram feed appear in a gallery mode on the site automatically.
Site Analytics
We provide a range of key analytics that can be accessed through a mobile App. Keep track of the traffic overview from wherever you are. Having in-depth details about your site and how your visitors are interacting with it will allow you to optimize your content overtime.
ANALYTICS OVERVIEW
Traffic Sources

Popular Content

Geography

Button Clicks

Device Type
More Like This
We are constantly updating our portfolio you can find more of our recent work here.
word in the city
We created a mobile first website to communicate details about the study options for young adults. This included various integrations including combing visual design with a CRM system to allow event registration to take place seamlessly.
Sixteensouth
We worked closely with Colin Williams the Creative Director of SixteenSouth to create new website to showcase their incredible work. SixteenSouth is a creatively driven independent studio focussed on creating and producing innovative, entertaining and meaningful content for kids throughout the world.
robinsons wedding hire
Working with a long established family business to develop a site for a new wedding product offering. We combined beautiful wedding themed imagery along with a one page booking format that is straight to the details and easy to navigate.